Dear Midvalley Families –

Thank you for a wonderful week of learning and having fun at Midvalley.  3rd Grade had a blast at the Utah State Fair.  Know that each grade attends 2 – 3 field trips.  Reach out to your teacher if you want to join your child's field trip.  This week–we have enjoyed having volunteers in the building.  Contact your teacher should you want to volunteer in the classroom.  We also have other volunteer opportunities listed below.  Please click HERE to complete your volunteer application.

A quick update on our parking lot –
This week–we had everyone off campus in 10 minutes!  Thank you for using the designated parking stalls only.  This also helps with families not being blocked in when they are ready to leave our campus.  The main area where we need help is everyone using our crosswalk.  Please do not walk in front of traffic and/or encourage your child to walk in front of traffic in our pick up lane.


Safety is our number one priority at Midvalley Elementary School.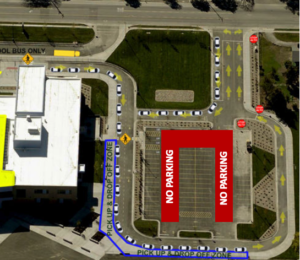 Go Jr. Huskies!

Jr. Husky Success…Nothing Less!
IMPORTANT INFORMATION
Struggling to Afford Wifi? You May Be Eligible for Free Internet Services 
As part of ongoing efforts to bridge the digital divide for students, Canyons District is  again partnering with the Comcast Corporation to cover monthly Internet connection costs for families in need. The program, coupled with investments to provide one-to-one computer access in Canyons schools, aims to ensure all students are equipped to succeed.
Applying for free WiFi through Comcast Essentials is easy. Here's how:
Call your child's school and ask for the person over Internet Essentials (Ms. Wendy Heath).
If you qualify for the program, the school will provide you with a sign-up code.
Call 844-963-0178 and provide Comcast with your sign-up code. You will also be asked to provide your home address and to choose if you want the WiFi equipment shipped to you, installed by a technician, or held for pickup at a local Xfinity location. 
Not all home addresses are eligible for Comcast connectivity. Our offer of subsidized WiFi is only available within Comcast's service area.
HB 162 – Starting this year, all girls and family restrooms in Canyons schools will be equipped with free period products. HB162 (https://le.utah.gov/~2022/bills/static/HB0162.html), which was passed by state lawmakers in 2022, requires Utah school districts to provide period products in each girls or unisex bathroom at every school, including at the elementary level. The law went into effect on July 1.  Custodial crews installed them this week and students may be seeing them. Canyons District recognizes and respects the rights of parents to decide when to have age-appropriate conversations with their children about the need for and proper use of period products. Questions? Please call 801-826-5000 or send an email message to communications@canyonsdistrict.org.
Preschool –  We have room in our preschool!  Because we are Title I, it is free to our families.  Please visit https://www.canyonsdistrict.org/depts/early-childhood/title-i/ to find out more information and/or to apply.  You can visit with our office team for more information.
Join Midvalley PTA – Please support our PTA and become a member today.  
Get to Know You Survey – Click HERE to share important information about your child's learning needs and goals with our amazing Midvalley teachers.
Stay in the know about Midvalley!
INTERESTED IN WORKING AT MIDVALLEY?
Substitutes – There are lots of opportunities to be an emergency sub @ $120 per day at Midvalley, regular substitute @ $140 per day, and licensed substitute at $165 per day.  We would love to have you join our team!  Reach out to Ms. Wendy Court, our head secretary, if you need further information.
Kitchen Worker – 4 hours/5 days per week/9:00-1:00-lunch
UPCOMING DATES
SEPTEMBER
19 Fall Pictures
22 Family Tech Talk at 5:30 pm
PTA Book Fair Dates
Wed, Sept. 28: 8:45 – 9:15 am
(during Grandparents, Grown-ups, and Goodies)
Wed, Sept 28:  3 pm – 7:30 pm
Thu, Sept 29: 1 pm – 7:30 pm
at the Midvalley Elementary School Gym
28 Grandparents, Grown Ups and Goodies at 8:45 am
28 – 29 Boo to the Flu Clinic from 3:00 – 7:00 pm
28 – 29 Parent Teacher Conferences
28 – 29 PTA Book Fair
29 Early Out at 1:20 pm
30 No Student Day
OCTOBER
3 2nd Grade Field Trip
7 PTA Board Meeting at 2:30 pm
11 All Pro Dads at 7:45 am in Media Center
13 Utah Food Bank at 3:00 pm
17 – 19 Digital Citizenship Week
18 School Community Council at 3:30 pm
20 – 21 Fall Recess
24 – 28 Red Ribbon Week
24 Picture Make-Ups
25 Kindergarten Field Trip
27 Eye Care Clinic
31 Halloween Parade at 9:00
31 Classroom Parties – contact your teacher
NOVEMBER
4 PTA Board Meeting at 2:30 pm
8 School Community Council at 3:30 pm
10 Family Math Night – more information coming soon!
11 End of Trimester K – 5
11 5th Grade Veterans Day Program at 9:30 am
11 PTA General Meeting at 2:30 pm
14 – 18 Give Thanks Drive
15 Moms Matter at 7:45 am
17 Utah Food Bank at 4:00 pm
23 – 25 Thanksgiving Recess
30 Big Smiles Dental Clinic