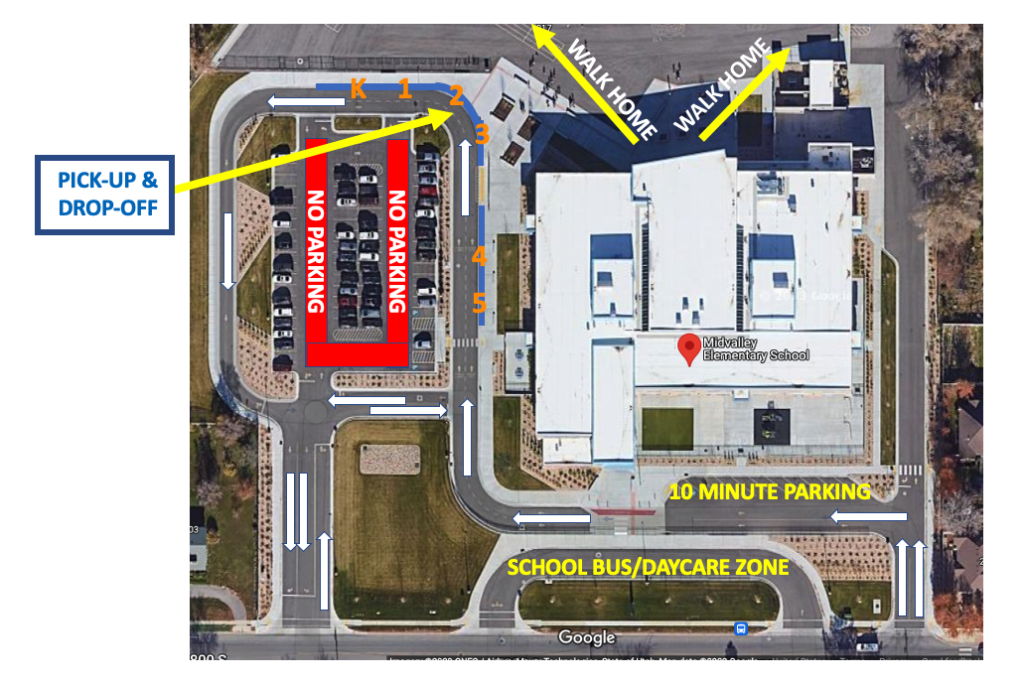 Adults set lifelong examples for the children at Midvalley Elementary. For the safety and well-being of students, families and students are to adhere to the following:
Everyone follows the directions of the Crossing Guards, Staff, and Student Safety Patrol members.
5 MPH speed limit in the parking lot.
Obey traffic signs.
No cell phone use while driving in the parking lot.
Children enter/exit vehicles along the marked/indicated pick-up and drop-off zones (see picture above of our school parking lot map).
Please make sure that your children are ready to exit the car before you come to the drop-off zone.
In the pick-up and drop-off zone, drivers remain in the car. All students should enter or exit the vehicle at the curbside from the passenger side. No vehicle doors should open on the driver's side of the vehicle.
If a child is not able to get out of the vehicle by themselves, the driver parks in a patron parking lot west of our school and walks the child through the crosswalk to the sidewalk.
Kindergarten parks and drops off in the designated zone (see map).
The play area is closed before and after school.
Bicycles, scooters, and skateboards are walked on all school property. Students are encourage to lock up their bikes.
Every child has the right to believe and expect that ALL adults are watching out for their safety in our parking lot at Midvalley.