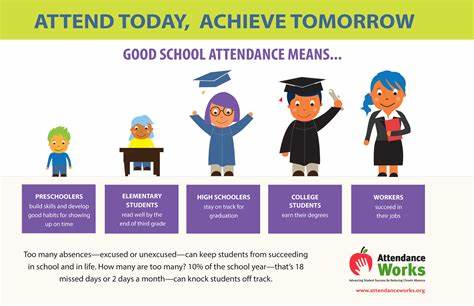 School Success Goes Hand in Hand with Being in School Every Day! Did you Know?
Many absences, even in Kindergarten, can cause children to fall behind in school.
Missing just one days or two every month can make it harder to learn to read by the third grade.
Student with too many absences struggle to catch up, even with take-home assignments.
Attending school regularly helps children feel better about school and themselves.
What Can You Do?
Develop a regular bedtime and morning routine.
Avoid missing school unless a child is truly sick and seek help is chronic illness is a challenge.
Check with our school nurse or office staff if you are not sure about when to keep your child at home due to illness.
If your child seems anxious about going to school, talk to teacher, school support staff, or other parents for advice on how to make him/her feel comfortable and excited about learning.
Types of Absences:
Valid Excused Absence: An absence excused with approved verification (ie. doctor note, dentist note, legal note, wedding announcement, obituary, or other approved verification).
Guardian Excused Absence: An absence excused by a parent/legal guardian without approved verification. Parents must call the office or send a note within one week of the absence. The limit is five (5) days each school year per Canyons District policy 55.35; any additional absences without approved verification will be considered unexcused.
Unexcused Absence: Any absence without a valid excuse.
Communication Procedure for Valid Excused Absences:
Illness or Medical Appointment: Parent provides a note from health care provider to the front office.
Family Death, Family Emergency, Religious Holiday: Parent provides notification to the school that the students will be absent (obituary, wedding announcement, etc).
Procedure for Education/Vacation Leave: A students may be allowed up to ten (10) days for education/vacation leave in a given school year, if prior arrangements have been made with the school for the students to make up his/her homework. Prior to education leave, parents complete an Education Leave/Vacation Form for approval. Teachers will complete the "Work to Be Completed" section a determine a reasonable due date. School administration will verify education leave.
Unexcused Absences: