If you have a child turning 5 years old by September 1st, 2023, they are eligible to enroll for Kindergarten next school year.
Please stop by our office to fill out registration paperwork or complete it online.
Please be prepared to provide copies of the following forms:


Child's original or certified birth certificate

Should you have a neighbor who has a child who will be 5 by September 1st, please ask them to come visit us.
Mark your calendar for Kindergarten Orientation on April 14th at 2:00 pm.  Both parents/guardians and future Kindergartners are invited.  This will be an opportunity to meet the teachers, administration, and learn about Midvalley!
We offer full day Kindergarten sessions.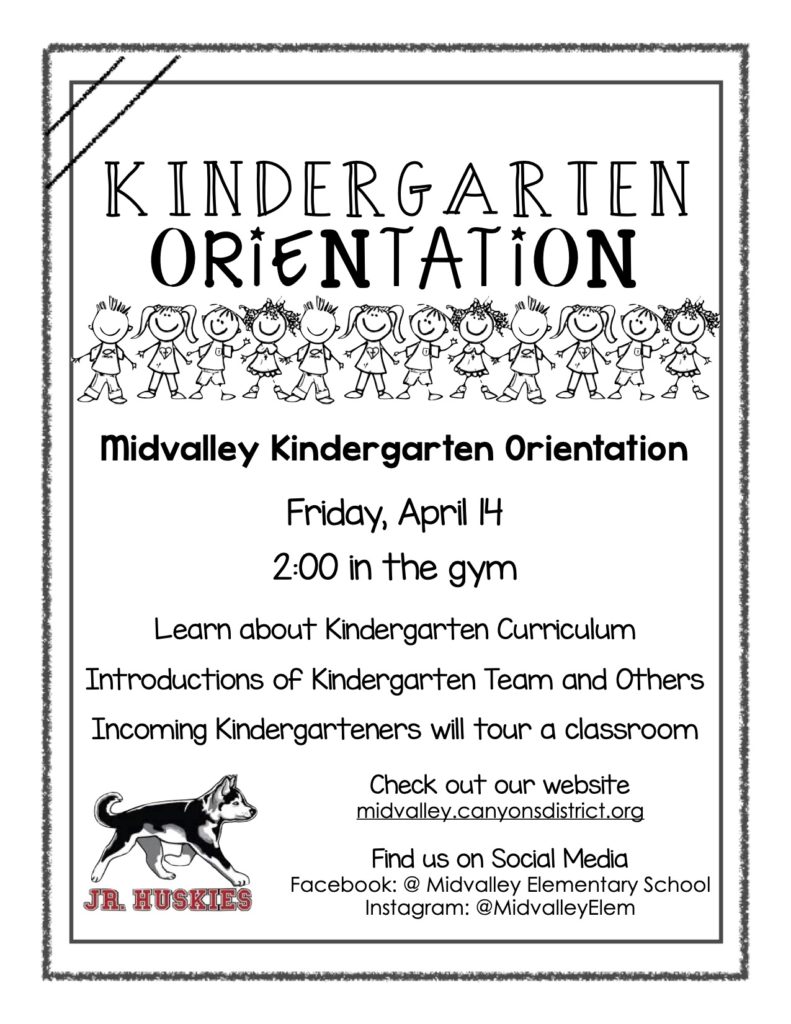 Calendar
Meet and Greet– Come meet the Kindergarten Teachers.
Kindergarten Testing by appointment. Please see above to sign up.
Kindergarten Classes created– you will be notified by email of which class.
First Day of Kindergarten
First Day of Kindergarten Information–TBA
Bring a regular sized backpack.
Do not send any school supplies (crayons, pencils, markers. glue, scissors). We supply all of that at school.
Meet us at the in the Kindergarten play area in the morning. We will bring your child into the classroom. No other adults are allowed inside. After the first day; students will enter the school building each day from the north side of the school into the lunchroom.
Breakfast will be provided every morning inside the classroom.
Lunch: Plan to eat lunch at school or bring one from home in a brown paper sack. Lunch Choices are: ____.
Before School Drop off on North Side of School Building into the Lunchroom. School starts at 8:20 am.
After School Pick up will be along fence on northern end of drive thru lane with the rest of school. We will have Kindergarten students outside by about 2:55 pm for safety purposes.
Fridays are short days and school will be dismissed at 1:20 pm.