Important End of Trimester Update for Midvalley
Communication for student class assignment changes-if needed
Report Card Information for First Trimester
Upcoming calendar information
STUDENT CLASS ASSIGNMENT CHANGES-IF NEEDED
The window for changing elementary Learning Choices is now closed. The choices parents made during the Learning Choice window are now guiding the complicated process of shifting teaching assignments, assigning students to classes, and allocating classroom resources at our school. As the District communication has indicated, this process is somewhat like beginning the year over for some students. We will be ready to support them and take care of their needs.
We have been working the last week to build new classes and do as little disruption as possible for the children. In all grades but fourth grade, we have only added students to classes. By doing so, we are still able to maintain manageable class sizes with safe distancing and follow our safety plan.
For fourth grade, to ameliorate the large class sizes, the District has allowed us to have Ms. Jonnie Morgart return to the classroom in person from online instruction. The District will be reassigning another teacher from a different school for our online fourth grade students, so we will be keeping a supportive eye on their transition, as we know they will miss Ms. Morgart's warm and effective teaching style. Having Ms. Morgart return has helped us greatly reduce the class size and redistribute the students into three classes. Students who had her in her online class and are returning in person have been automatically added to her in person class. We have also added other students from the other two classes to balance the three classes. We will support the students and build community in the classroom in the transition. We are fortunate to have three excellent teachers in fourth grade who are prepared to take care of the students' emotional and educational needs. Please see below for the timeline for teacher assignment notification. Hopefully, you can see we have kept the children at the center of this process.
These changes will take effect with the start of the second term on Monday, Nov. 23 and carry through to the end of the term on March 5 when families will be given another chance to choose the learning mode that fits their educational needs and health considerations. As per the District, midterm changes will NOT be considered. 
CHANGE IN TEACHER ASSIGNMENT 
The school will be mailing letters home to families on MONDAY, November 16, IF a student attending IN PERSON will have a change of TEACHER who is already attending in person (fourth grade).
Students returning from online or parent directed to in person will also receive a letter with instructions about his or her first day at school, teacher assignment, and Midvalley information. This letter will be mailed Monday, November 16.
The District will be informing families if a student will have a change of teacher if they are online by Wednesday, November 18. Not all students will have a change.
If your student is remaining in the SAME class in person, you will NOT receive a letter. Only fourth graders who are currently in person MAY be moving to another class. All other in person students from first trimester will have the same teacher for second trimester.
After Saturday, November 21, you can see your student's class assignment on Skyward Student when the classes are re-established on Skyward for the second trimester.
Please feel free to call our office if you have questions about the process or if you do not receive your letter in fourth grade by Thursday. (801-826-8800), or email me at tamra.baker@canyonsdistrict.org
REPORT CARD INFORMATION
The trimester ends this Friday, November 20. All late assignments must be completed, either in person or online by Thursday, November 19. Report cards will be mailed to parents on November 23 by the District Office.
UPCOMING CALENDAR EVENTS
November 20  End of Trimester
November 23  Report cards mailed
                        First day of new trimester
November 25-28 Thanksgiving Recess (No school)
December 7-10 White Ribbon Week (Digital Safety Week-Look for fun activities from the PTA)
December 21-January 1-Winter Break (No school)
We are so happy to have so many more students coming back in person. We have missed you! We also wish the very best to our online and parent directed families. Please let us know if there is something else we can do for you in this transitory week. 
Warmest regards,
Tamra Baker, Principal
.
Four Day Week In Person-Friday Continued Learning Starts Next Week (October 5)
Halloween Celebration (October 29)
Window for Switching Learning Option (Important Information for Parents)
Four Day Week In Person-Friday Continued Learning
The Board-approved pivot to a four day, in-person schedule Monday through Thursday will start on Monday, October 5. Students will NOT attend school on Fridays in person starting next week. Teachers will be sending a packet home each Thursday tailored to each grade with a school wide focus. This student work is required to do on Friday at home and will be collected on Monday. The continued learning activities on Friday will be an important part of the student's work on Monday, so they need to complete these assignments. All work is a review of previously taught material. 
The student's self-guided packet should take no more than two hours for upper grades to complete. Younger grades will take less time. We are also asking the students read for 30 minutes in an age appropriate book on Fridays. There will be an activity suggested by the teacher to complete for their chosen book each Friday that will also be turned in on Monday. 
ATTENDANCE ACCOUNTABILITY: If the students have completed the assignments, they will be marked as present at school for Friday. If they do not complete the assignments, they will be marked absent on Friday. This is the accountability for the student for school for the day at home. For the week of Fall Recess and Thanksgiving, there will be NO Friday continued learning activities provided, as these are holidays.
In addition to the packet that is sent home, optional online activities will be available on the teacher's Canvas course for practice, if the parent would like the student to have academic practice to do. NO CHROMEBOOKS OR IPADS WILL BE SENT HOME WITH STUDENTS FOR ONLINE ACCESS FOR FRIDAY OPTIONAL ACTIVITIES.
The school will also be sending home a breakfast and lunch on Thursday afternoon for Friday unless requested not to do so as part of our free breakfast lunch program.
TEACHER OFFICE HOURS/STUDENT SUPPORTS ON FRIDAYS: Teachers will be available on Fridays from 8:30 am-10:30 am to schedule meetings, answer phone calls and emails with parents and students every Friday. They will also be supporting any students who may be working online from their class due to illness/quarantine or travel, etc. Please feel to reach out to them if you need help. All staff can be reach directly by email in Canyons District by staff member's firstname.lastname@canyonsdistrict.org You can reach our front office at 801-826-8800. Office staff can send you to the teacher's phone in their room. 
Our Special Education Team may be scheduling IEPs, DLPs and 504 meeting during their office hours, as well, with parents whose schedules may work for these meetings.
Halloween Celebration-In Person Students
We are happy to have the annual Halloween childhood fun continue on Thursday, October 29th. In collaboration with the PTA, every class will hold a party at the end of day. While we cannot have a parade this year or have volunteers in the building, the teachers have planned whole class games and activities and fun short movies. Teachers will be asking for donated wrapped treats and non-food fun items for the students from parents in the classes. You will see a flyer from each teacher come home for voluntary donations later this month. 
Since we will not be having a parade, costumes are optional this year, but students are welcome to dress up for the day. If they choose to wear a costume, the same rules apply as every year. No weapons or facsimiles of a weapon may be used. No costume masks may be worn with the costume (we KNOW! How ironic, right? Just the health and safety ones. Perhaps they want to be a doctor or nurse this year? 😀 ) Also, students will need to wear the costume all day, as we will not be able to have students change in the bathrooms during the day into or out of costumes. Please consider make up challenges with wearing a face mask all day.
In the past, because we have had a public parade where it would be noticed if a child didn't have a costume, we have helped a lot of students have a costume. To do this, we have had a donated costume store and had students try out different choices and sizes. Due to COVID, we are unable to do that process this year. 
We have had to make the hard decision to not provide this support this fall. We are also hearing that most neighborhoods will not be holding Halloween events or trick-or-treating where our students would be excluded, so don't feel this might be as big a challenge for these students to feel a part of the community. For these reasons, we will not be accommodating these costume requests for just this year.
District Window for Switching Learning Option
The District sent information to all parents this week and put information on our website concerning the window for parents who wish to switch their learning option. We have quite a long list of parents who are patiently waiting to come to school in person from online and parent directed. We have accommodated all the students we can at this time in some grades without staffing changes that need to take place should students make that shift. We will continue to communicate with you as the process gets closer, but please mark the window on your calendar as it is in CONCRETE! Secondary schools have started, but elementary is LATER.
ELEMENTARY SCHOOLS The window for submitting change requests is Sunday, Nov. 1 through Sunday, Nov. 8. Learning option changes will take effect with the start of the trimester on Monday, Nov. 23.
FROM THE DISTRICT: Those wanting to shift from in-person to one of two remote learning options available, or from remote learning to in-person instruction, will need to submit a change-request within the timeframe advertised by their school. No action is required of families who wish to stay with their chosen path. The three learning options are the same as described at the beginning of the year: In-Person Instruction; Online Instruction; or Parent-Guided, District-Supported At Home Instruction. An explanation of those options can be found at canyonsdistrict.org. The choices parents make during this window will guide the complicated process of shifting teaching assignments and allocating other staffing and classroom resources. For this reason, we cannot entertain late change requests.
As always, we wish to thank you for the wonderful collaboration we feel with you as parents. It was a delight to visit you during parent/teacher conferences. The students are thriving and we see a lot of growth in their academic and social progress. Please do not hesitate to reach out for anything we can do to support you and your family.
Warmest regards,
Tamra Baker, Principal
Dear Parent of a Midvalley Student,
Welcome back to a new school year. In this letter, you will find important information to start school on the first day.
Important Dates and Time (Bell Schedule)
First Day of School Information
Parent Drop/Off Pick Up Information

Walking Students
Driving/Parking Lot Information

Breakfast and Lunch Information
Safety/Health Protections/Requirements
How You Can Support the School
How to Have Best Communication This Year
Upcoming Events-Stay in the Loop
Teacher Assignment (On Card)
Important Dates and Time
As per our CSD Board of Education approval, school has been delayed one week. School will not end later this year due to the delay. School will end May 27, 2021. A school calendar has been included for your convenience for all school dates. Please refer to this calendar for holidays and other events.
First grade through fifth grade start school on August 24, 2020
Preschool and Kindergarten start school on August 27, 2020
First Bell is 8:20 am
LATE BELL is 8:25 am (CHANGE)
Students should enter the building starting at 8:15 am for breakfast and be in their seats, no later than 8:25 am for the final bell. Breakfast will be served to ALL students for FREE this year. Special dietary needs should be reported to the School Nurse (such as diabetes, celiac, food allergies, etc.) as part of a total health plan. Kindergarten lunch will be eaten in the classroom.
If a child chooses to not participate in the free lunch for all program this year and brings a lunch, all lunch items must be disposable. Lunch boxes will not be allowed this year due to sanitizing concerns, so all items will be thrown away in the cafeteria. Leftovers will not be allowed to be taken back to class. Please do not send large bags of "snacks" to be eaten at with their lunch, as these are not necessary and encourage "sharing", which is not allowed.
August 24 and 25, KEEP assessment for all kindergarteners will be administered in the office conference area. Parents will be able to physical distance in the foyer of the school or wait outside during the assessment. Chairs will be available while you wait. All visitors entering the school will need to wear a face covering. If you do not have one, a mask will be provided for you.
First Day of School Information
FRIDAY, AUGUST 21–VIRTUAL OPEN HOUSE
We have a brand new building, and it is beautiful. We are ready for school and look forward to welcoming your children to their classroom. We know they are eager to meet their new teacher. On Friday, August 21, our teachers will be holding a Virtual Meet and Greet with their classroom. Because we cannot have a traditional Open House, we want your child to still be able to meet their teacher and see their classroom. The teacher will send an invite to your family via email to have your child see their video at 12:00 pm. They will also send a link to a video introducing him/her to you that you can view anytime that weekend, if the virtual meeting time is not convenient.
MONDAY, AUGUST 24–FIRST DAY OF SCHOOL
(Please look below for pick up and drop off procedures.)
We want every child to have a happy, successful first day of school experience. We have been planning all summer how to make this a supportive and special day for you child in a new building without the opportunity to have a preview day or a chance to walk through the building with their parent previously to the first day of school, as we have traditionally done. Normally, we have a Meet and Greet the Friday before school starts. This year, we are not able to do this and sanitize the building and be ready to start in the best way for the children.
Since NONE of the children have ever been in the building, way finding, as our architects would say, or the ability to navigate around the building, is new to all of them. Because we don't want this to be a barrier, and we want them to be immediately to feel safe and cared for, we have developed a simple, but effect plan.
In this packet, you will find a card with your child's teacher's name printed at the top. It also has your child's name on it. On the first day of school, we are asking you to have your child hold this card as you drop them off. You will find a school adult greeting them the children will know at the school door. The adult will then direct the student through the correct doorway. Immediately inside the door, another adult will greet them and move them to the next adult down the hall.
We have recruited the help of 30 highly qualified District administrative staff volunteers to help us that day who have years of experience with children to help us with hall duty. Our goal is to have your student in her room with her classroom teacher quickly. These experienced, happy people will greet your child and point her way. It will be a quick way for the child to be with the person would can get them started on the day.
By following this procedure, we will avoid any congestion, follow our COVID safety plan for physical distancing, and avoid standing in lines outside, which would violate group numbers. For this reason, we ask you to stay in your car, if possible, drop off your student, and clear the spot for the next family. If you choose to park and walk your student to the door, the you quickly leave the area and follow physical distancing rules. All parents should wear face coverings.
If you walk, please also follow these rules, by dropping off your student and then leaving the playground, as quickly as possible.
All parents MUST wear face coverings at all times on school grounds. If you are not wearing a face covering, our staff will ask you to do so. Please be kind to them. NO parent will be allowed to enter the building with their child. We ask that if adults need help with questions on the first day of school from the office, please do so after 9:00 am, or visit with us the week before school starts to complete paperwork, etc. We will be focused on the students the first day of school.
We know these steps are different for you than in the past, but we are all working to reopen school safely as possible. Your exactness in following all guidelines this year will parallel the exactness that we will also be following to ensure, as much as possible, the mitigating risks for the safety of our community. We are committed to this in all safety matters as a school, not only for this temporary issue of COVID. We appreciate your help with this, as well. Following these guidelines, we anticipate a very smooth and happy first day start.
If you have any questions with these procedures, please do not hesitate to reach out to me for clarification so you feel confident to help your child. Watch for the signage the first day to direct you in the parking lot and at the doors of the school to know where to go. We will have "way finding" for adults, as well.
Parent Drop/Off Pick Up Information
Walking Students
If your family walks to school, and we encourage families to do so wherever possible, Please note that the playground will still have some construction in process in the back when school starts. However, the sidewalk has been poured. You can enter either side from the east or west of the playground from the neighborhood. Please walk around to the back doors of the school. Students will not enter the front doors of the school.
Grades second through fifth will enter the building through the north doors.
First grade will enter through the west doors.
Kindergarten and preschool will enter in the kindergarten playground through their doors.
Students that walk will be walked out of the building together by grade by a grade level teacher 5 minutes before the bell rings at 2:55 pm. All students should know where to gather with their family or walking friends and they should IMMEDIATELY start walking home. We must avoid congestion. If you are picking students up, please establish a collecting place well away from the building and immediately leave the campus upon finding the students. Students will not be able to congregate and visit with friends after school or play on the playground equipment, even if they are supervised by a parent, as per COVID guidelines and our safety plan. Please help us enforce this. All students and parents must wear face coverings on school grounds. It is our hope that walking students will be well on their way BEFORE the students being picked up are brought down for pick up at 3:00 pm. This gives them a five minute head start to clear the area. Please identify if your students will be walking south of the school on the enclosed card or north of the school. South walking students will be released out the front doors. North walking students will be released out the back doors.
Pick up students
Students being picked up will be escorted by a grade level teacher at 3:00 pm. Please be alert in the pick up lane. We have a very long area for pick up and we will ask the students to quickly gather with their carpool. As soon as the students are in the car at the end of the day please pull in the pull through lane and exit so the other cars can move up. We want to be able to have all students off campus by 3:10 pm. Please be on time. As the teachers are bringing the students down to the pick up, they will not be able to dawdle along the way. Late parents will find their students in the office. This stresses students when their parents are late. Please help us help the children by being on time.
NEW: Please mark on the card included if you will be walking or picking up your student daily. If you are making an occasional change, you must call our office or send a note with your child before 2:30 pm on that day. Otherwise, we will be following what is on the card. If that direction changes, we need to send a note with your child and we will daily change that to walking or pick up. Again, we need to follow these routines with exactness to keep all of our community's children safe. We cannot have confusion at the end of day and we will follow all safety guidelines in our plan throughout the day. Physical distancing can only be maintained with YOUR help before and after school.
NEW: Students who need to be checked out of the office for afternoon appointments must do so before 2:30 pm. This avoids congestion in the front door area as we release students to walk home south and take students to the bus lane for preschool pick up and day care pick up. If you call or ask to check out after this, we will ask you to wait until 3:10 pm.
(A map of the parking lot is in the Addendum at the bottom of this letter.)
Breakfast and Lunch Information
Great news! We have been authorized for a program call Community Eligibility Provision (CEP) which is a program that allows qualifying schools to serve breakfast and lunch at no cost to every student in the school. We do not have to collect any household applications—from anyone! Who benefits? Every family! This means free, nutritious meals for all students. There is no time spent in the cashier line and more time to eat. We don't have to do household applications and paperwork. There are no worries about lunch accounts. This will be much easier for our school staff. For the students, it means more time to eat their lunch. Isn't this awesome?
LUNCH SCHEDULE
11:15 am         Fifth Grade
11:30 am         First Grade
11:50 am         Third Grade
12:00 pm         Kindergarten (eat in room)
12:10 pm         Fourth Grade
12:30 pm         Second Grade
All Students also receive a healthy, fresh fruit/vegetable snack break twice a week in the morning.
Please note: Parents will not be able to eat with students in the cafeteria or their rooms this year, as per our safety reopening plan.
We will be eating breakfast in the classroom in the morning. As students arrive, they will be going directly to their classrooms where they will sanitize their hands and enjoy breakfast and their Morning Meeting.
Lunch will be served in the cafeteria. Students will be given a bathroom break before lunch their year. We have the cutest cafeteria tables we ordered last winter for the new school. They can be made into benches, so they are a non-traditional looking cafeteria table. They flip to make a table and usually seat four students. We will have two students to a table, so every student will have a buddy, one at each end for physical distancing. The tables will all face the large glass wall to the playground. It will look like a little café! We think the kids will love it. The tables will be numbered and color coded. The color code will also assign the students in small groups for recess rotations to keep the together outside.
Safety/Health Protections/Requirements

 
The District and State have purchased masks for every student. Families are also welcome to provide masks and face coverings for their child they prefer. Masks are required at school. We believe the students will comply, as it becomes part of daily life for a while. This is a temporary solution and an important step for children to know they can act when situations are difficult. We will be treating this as we do other first of the year routines we teach in a very neutral way. Children follow our lead and attitudes.
We have purchased blue (school color!) lanyards for every student. (If you choose a different lanyard for your child, please make sure it has a "break away" feature.) The student can clip their face covering on their lanyard so when he takes off his face covering, the mask is handy and clean while he eats or drinks, then the face covering can go back on. Students will be distanced at lunch so they can safely eat and visit. After lunch they will clean up as they always do, throw away their trash on the way to the playground and sanitize on way out.
Students will also sanitize into classrooms and sanitize on the way out of classrooms. At the end of the day, each student will be provided a skin safe wipe or spray and cloth to wipe their desk and chair. Nutrition personnel will sanitize the cafeteria tables and bench seats between grades. We are being provide plenty of materials at the school level to clean and sanitize.
Every student will be provided a Midvalley Husky water bottle. They are blue with a black easy pull cap and our Midvalley mascot. All of our drinking fountains have automatic bottle fillers on them. The students will be able to fill their bottles daily and clean them out regularly. Hydrating is a healthy lifestyle we encourage. Students will not drink water from the fountains, but will be encouraged to drink water from their bottles. Students are welcome to bring a different bottle from home, if they choose. Their name or class number will be place on their bottle to identify it.
Also, at this time, parents will not be able to enter the school past the office due to social contact tracing to keep our students and faculty healthy and safe. We may determine essential volunteers later in the year who are regular helpers in the school under our reopening plan.
How You Can Support the School…and We Can Help You Even Better!
PTA and SCC
There are many ways you can support the school this year. We have a wonderful PTA and SCC. Please consider getting involved, whether in a small way or big! The PTA will be soon having a membership drive. Our faculty is a 100% PTA membership. We feel very supported by the parents in our community.
This year the Book Fair will be online. Look for that information coming in September. The fundraiser will also look a little different, but will also be coming in September. Our PTA is hard at work. We couldn't do all of the fun things that happen for the students without them.
BIRTHDAYS
We are asking this year to minimize the treats sent for your child's birthday at school. If you choose to send something to school for their special day, please consider a small non-food item, such as a fun pencil or toy, etc. If it is a food treat, it must be something that comes individually wrapped. We have so many students with food concerns, we often see sad friends who cannot participate. Since we cannot serve such things as lovely bakery cupcakes or pizza this year with our reopening plan, maybe it is a great time to have a different tradition started and think of some creative non-food things, if this is something your family likes to do for your child. And of course, it is not a requirement to send something to school on your child's birthday.
TARDIES WILL BE COMPLICATED THIS YEAR
Please be on time to school this year. We cannot emphasize enough the complications that being late will place on your child. With the need for physical distancing in the office, this will create more time to get students through the office in the morning. We have to avoid congestion.
We want every child to have a great day every day. Sometimes it takes us HOURS to settle down a child who is late to school. Students who are chronically late are a symptom that something is not working. Here are some ideas for home: Let's have a good day by starting the night before. Set out clothes for school. Gather up the backpack. Set the alarm clock early enough. A good night's sleep, so the child isn't grumpy and tired. Leave the house on time. A calm morning starts 12 hours before. If this is not working, please help us help you and problem solve together. Being on time is an important life skill for work and family life. It shows we value another person's time and respect oneself. Our counselor, Gina Lloyd can help, too. Let's problem solve early before the problem become bigger.
PLEASE START WAKING UP EARLIER NOW. We've been out of school a long time. Please consider start waking up at school time before school starts if sleeping late has become the habit. It will be very tiring for the student if the first day of school is the first day they've been up before 10:00 am since March. You've got a few days to make a shift for them…and you. We are parents, too, so understand making it easier on ourselves isn't a bad idea, either.
How to Have Best Communication This Year
Communication is important to us, and we work diligently to keep you in the loop of key information. We do this by engaging:
Our website www.midvalley.canyonsdistrict.org
Our Facebook https://www.facebook.com/midvalley.elementary
Instagram and Twitter @midvalleyelem
Skylerts
Teacher email (You can find all staff email on the school website.)
PeachJar (via email)
We also love to hear from you, so please do not hesitate to reach out to us.
General office: 801-826-8800
Principal's office: 801-826-8803
My email tamra.baker@canyonsdistrict.org
Office hours are 8:00-3:30 pm
Upcoming Events-Stay in the Loop
August 21                    Virtual Open House/Meet the Teacher
August 24                    First Day of School 1-5 grades (8:20 am first bell/8:25 am tardy bell)
August 27                    First Day of School PreK-K
September 4               PTA Board Meeting
September 7               Labor Day-No School
September 23,24        Parent/Teacher Conferences Virtual/In Person Option
September 24             Early Out Day 1:20 pm
September 25             Compensation Day-No School
We are looking forward to another fantastic year at Midvalley. We hope to be able to have a community open house when conditions allow. We welcome our new Dual Language Spanish students and preschool to Midvalley. The new building will serve this community well for decades to come. We feel honored to be part of this special year.
With fondest regard,
Tamra Baker, Principal and the Midvalley Staff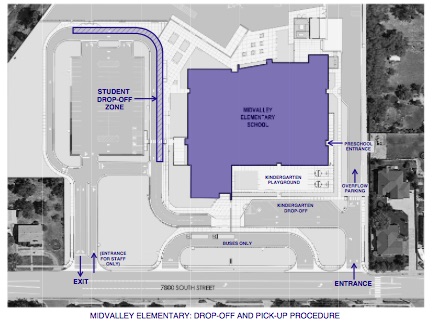 Dear Midvalley Families,
We are living in a very unique and challenging time. Some of you may not be fully aware, but District and School Leadership has been working through the summer, on evenings, weekends, and around the clock to put together a State and District Plan in an effort to mitigate the risk, as much as possible, for the pandemic's effect on your child's education. Also, Midvalley's Teacher Leaders and Parent Leaders, from our School Community Council and PTA Board, have also spent many hours this summer customizing a school site plan to the Canyons District Plan. Here is a link to our Midvalley Reopening Plan that includes the State and District Plan, too.
Please acquaint yourself with the information in these documents, so that you can make the best decision for your family when school starts in three weeks.
In developing these plans, we have learned there are no perfect solutions. A one-size-fits-all approach will not work for everyone. Therefore, we are very pleased that the Canyons District Leadership and School Board are providing options for you, as parents, to decide what is best for each of your students during the COVID Pandemic.
Thank you in advance for all of your patience and understanding as we head into the 2020-21 school year with all of its changes. Midvalley has an amazing community. We are finishing a brand new school and offering a new Spanish Dual Immersion Program. So many of you are willing to pitch in and be a part of the solution. I invite everyone (students, parents, teachers, support staff, and our community) more than ever to unite our efforts for the children and families of our community. We welcome the students coming from all over the valley that will call Midvalley their school! It will be a different, but exciting year!
Online Registration:
The Skyward Online Registration window opens tomorrow, July 27th. Please read through the Online Registration Information Page for a wealth of information and links. The links on this page will answer most, if not all, of your questions.
Since the three learning options will affect our staffing, we encourage you to complete your online registration by Friday, July 31, if possible, so we will have the vital information we need to make staffing adjustments. This is one important way you can help us.
If you would like extra support, we will have computers set up in Union Middle School's main entryway for Walk-In Registration this week from 8:00 am until 1:00 pm Monday through Friday. We will also have a evening time on Tuesday, from 3:00-7:00pm. There will be Spanish translators present to help. During online registration, you will have the opportunity to choose one of Three Learning Options for each of your students.
Dual-language Immersion:
Some of you have emailed asking about the options for our Spanish Dual-Immersion Students. DLI will continue to be fully implemented if you choose the In-Person Instruction option. DLI will not be a part of the At-Home, District Support option. In regards to the Online Instruction for DLI, here is an excerpt from the district's FAQ page:
Supports for SALTA and DLI students who request online instruction will be available, though, the specific supports will not be finalized until the number of SALTA and DLI students receiving online instruction is known. Students enrolling in online instruction maintain their place in these programs.
I know this won't fully answer your questions about the online option for DLI students. My suggestion would be to make your decision based on two things:
Your COVID comfort level based on our Midvalley risk mitigation plan balanced against
Your desired quality of Spanish Instruction. In-person Spanish instruction will generally be more effective than online Spanish instruction.
Also, keep in mind that you will be able to shift your option decision at the end of the trimester in November. These same thoughts may also help parents who are trying to decide about sending their students to school or choose an online option.
Upcoming Events:
July 27th Skyward Online Registration Begins. Please complete online registration by Sunday, August 2nd, if possible.
Aug 11th 6:00 pm Virtual Ribbon Cutting
Aug 11th 6:30 pm-7:30 pm Community Reverse Parade Celebration for the New School (more coming!)
Aug 14th Virtual/Online Meet The Teachers Open House (more info will be emailed to parents as the date approaches)
Aug 17th First Day of School for Grades 1-5
Aug 17th – 19th Kindergarten Assessments by appointment
Aug 19th Parents Notified of All Day/Half Day Kindergarten by Phone
Aug 20th First Day of School for Kindergarten
Sep 7th Labor Day Recess – No School
Sep 11th Picture Day
Quick Links:
If, after reading through this information, you still have questions, please feel free to call the office at 801-826-8800 or drop by our walk-in registration. You can also email me directly at tamra.baker@canyonsdistrict.org
We look forward to another AMAZING year at Midvalley Elementary!
Tamra Baker, Principal